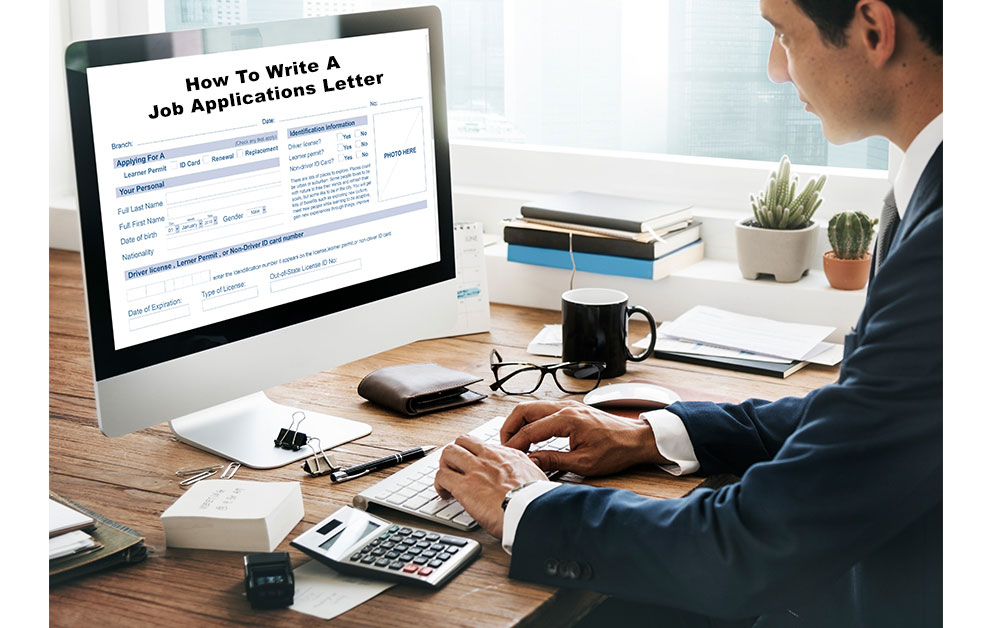 Are you planning to apply for a new job? There are numerous jobs available in the industry. All you need to do is find the right fit for you. People usually do not get a second chance to make an impression, so while you get it, make it the best. When you apply for different jobs, you have to write a job application letter to inform the respective job recruiter that you are interested in that particular profile. These applications include applicants' details such as their academic information, personality, personal data, accomplishments, and more. However, a job application also includes a cover letter that you send along with your resume, where you mention all the necessary details. It is one of the best options to explain that you are the perfect fit for this position.
When you write a job application, it is important to look after the layouts and formatting. It is the perfect way to organize all the information as per the standard guidelines. Besides that, it will make your application look more professional and will eliminate the chances of any errors. If you are here to learn more about how to write a job application letter, you have arrived at the right place. In this article, we will talk about what a job application letter is, its structure, tips, format, and template. So, let's get started!
What Is a Job Application Letter?
Job application letter is an essential document that is submitted along with your CV/resume to the employer to show your interest in the profile. As we mentioned above, it also includes a cover letter that explains why the application is perfect for this job profile. In simple words, whereas a resume is used to showcase experience, skills, and achievements, a job application letter focuses on the key qualifications.
The job application format is an important detailed pitch to convince the employer of your eligibility for the open job profile for which you are applying. Along with expressing your interest in the job, the letter will show your skills, qualifications, achievements, and experience. Simply, it will present why the recruiter should shortlist you for the interview.
Read More: How to Apply for Jobs online
Structure of A Job Application Letter
A job application letter is content that supports your resume while you apply for the job. However, these days it is shared via email. To write a good job application, you have to mention your interests, position, and details that are the perfect fit for this job. Apart from that, you have to specify your qualifications and professional skills. Nonetheless, are you wondering "how to write a job application letter?" Here are some of the essential points that you can follow to write a convincing application letter:
1. Clear Heading Is A Must
If you send the paper copy of a job application letter to the employer, you need to add a clear heading with your name, email, phone number, address, and date. Besides this, you can also mention the name of the hiring manager or the recruiter and the name of the company and its address. However, if you are applying via email, writing a header with your personal details is not mandatory. Thus, it is your choice to conclude the additional information. You can add them along with your signatures. It is an essential structure of a simple letter for a job application.
2. Go Through The Job Advertisement
While reading the job advertisement of a company, you should note their requirements. This way, you can compare the qualifications and skills you have. Go through the essential keywords, and if it matches, you can incorporate them in your resume and the application letter for the job. It will make it clear to the employer that you understand the potential of the candidate profile. You can also learn more about the company to present your perspective in the job application.
3. Address The Letter To The Appropriate Person
If you write the job application to the recruiter or hiring manager, you need to address them with the correct name. You could also use words like " Hello or Dear, Mr,/Ms./Mrs along with their surname. Just in case you are unable to find their name, you can write, " To the Hiring Manager", or "Dear, Sir/Madam." It is vital to be professional and address the right person with their name to make them read further.
4. Have A Look At Professional Letter Formats
To prevent any unnecessary mistakes, you can review the job application's authorized and accepted professional formats and use the structure accordingly. However, you can use different alignment, margins, spacing, and professional fonts of sizes between 10 to 12. However, try to keep the topic concise and clear.
5. Start With Expressing Your Interest In The Job
When you start writing the letter, make sure you start it by ensuring that you are interested in the specific job requirement. To make it more relevant, you can mention the skills, qualifications, and work experiences that make you stand out for the respective position. However, ensure that whatever information you provide is precise and accurate.
6. Talk About Your Eligibility For The Job
To make it more effective, you can talk about your skills and work experience in the upcoming paragraphs and show how perfect you are for this role. Besides this, you can also talk about your specific work projects and accomplishments along with your responsibilities. It will help you provide details of your previous work experience, and this way, the hiring manager can evaluate your capabilities for the respective job position.
7. End Job Application With A Thank You
It is ethical to thank the hiring manager or the recruiter for taking their precious time off to read your job application format. It represents appreciation, politeness, and a professional tone.
Tips For How to Write A Simple Job Application Letter
Cover letters are essential if you want to start with a good note. However, many applicants consider it one of the lengthiest tasks and prefer giving old cover letters to every job they apply for. This is where you are wrong! As per the professional advice, a job application format reflects your personality, way of communicating, qualifications, experience, and achievements. Thus, you should make a new or an updated simple job application letter that is tailored/modified according to the profile you're applying for. Here are some fundamental tips that will help you write the best cover letter for the job you are applying to:
1. It Should Be Easy To Read
It is imperative to make your job application format attractive and readable to your audience. The professionals recommend fonts like Arial or Helvetica with the font size 10.5 to 12. Hence, do not forget that business letters look conservative in general. Apart from this, margins are an essential point to consider in an application for a job letter. You can keep it somewhere between 1 to 1.5 based on the length of your letter. You can also adjust it as per the space, font, and size you choose. However, one of the other tips is that your font size, style, and color should match your resume to give a consistent feel to the employer.
2. Write New Cover Letters For Different Jobs
Every company has its own set of challenges and approaches. Hence, it is essential to go through its profile and understand its products and services to address your cover letter effectively. After going through the company profile, you can explain how your abilities can benefit the company and help them overcome the challenges.
3. Your Job Application Must Have An Unique Cover Letter Header
Employers go through several cover letters every day for multiple job profiles. If your job application letter format has a basic header, there is less chance that they will move further with it. You can make your job application stand out by putting your name in the cover letter, giving it a unique header and an organized structure.
4. Do Not Copy Your Resume As It Is
A cover letter works as a sales pitch, where you sell yourself as to why a company should hire you for a respective job position. The significant purpose of the cover letter is to convince the hiring manager to hire you based on your work experience and capabilities. Hence, do not write your cover letter as exact as your resume; you can instead add your academic information, work experience, and accomplishments.
5. Writing Tone Is A Must
The writing tone is one of the best ways of communicating. It represents the level of the job you are applying for. For example, if you are writing a cover letter for an entry-level position, you should express adaptability, enthusiasm, and highlight a bit of your personality in the respective expertise. However, if you are applying for a senior position, the tone must be professional, and your cover letter should reflect why you are qualified for the respective role.
6. Do Not Repeat But Expand
The resume already shows your skills, experience, and academic background in an organized manner. You can use those bullet points and expand them a little in your cover letter in short paragraphs by explaining its relevance for the company and why choosing you is the ideal choice for the company. However, it is essential to remember not to repeat the information more than once while you do it. It would lack a compelling message and not create a strong impression on the employer. Some of the best ways to write a cover letter are by discussing the recent concerns in your expertise area, going into detail regarding your achievements one by one, or explaining how your experience can benefit the company.
Read more: why should we hire you
Job Application Letter Format and Template
Here is an job application format format that you can consider while writing a new one for the job posting:
To: Respective email of the company/hiring manager/ recruiter
Subject: Job application for ABC position at XYZ company
Message Body:
Greetings (Dear/Hello Madam/Sir/Mrs./Ms./Mr.)
Start by mentioning the job you're applying to, how you found it, and express why you are interested in it by giving a brief introduction with a professional and unique title.
In the second paragraph, you can highlight your educational background, professional skills, and experience to highlight your eligibility for the job position.
In the third paragraph, you can discuss your previous work experience and projects with other brands/companies. You can use this space to represent how it improved your skills, what you learned, and how you approached meeting the employer's expectations.
Give your thanks to the recruiting/hiring manager for reading your letter.
Sincerely/Best regards
Your Name
Mobile No:
Email Id:
Download Job Application Letter Format
Here is an example of a job application for the sales manager:
To: priyasharmaxxx@salesforce.com
Subject: Application for Sales Manager Position with Salesforce
Dear Ms Priya,
The job application is regarding your call for the sales manager on the Glassdoor job portal. I have gone through the job requirements and visited the official website of Salesforce, and I am highly interested in working with you.
I have done a first-class MBA from the Indian Institute of Management, Ahmedabad, and have 10 years of experience as a Marketing Manager with Accenture. My work responsibilities and experience include examining, planning, organizing, and executing products launched and customer engagement strategies. As a result, we successfully drove higher sales seven years in a row. Based on my experience and passion for overcoming challenges, I believe I will be the perfect fit for this job profile in your company.
I am attaching my resume and some work samples for your reference.
Thank you for taking the time to go through my application.
I am looking forward to hearing from you.
Best Regards,
Nisha Malhotra
+91 XXXXXXXXXX
nishamalhotraxxx@gmail.com
Download Job Application Letter Format for Sales Manager
Read More: Sales Interview Questions
Conclusion
By following the above-mentioned job application tips and format, you can enhance your chance of getting the job. Besides, you can send the job application letter to the company via email, which will conclude the company's recommended method of contact. All you need to do is follow the instructions. Lastly, check if there is a given deadline for the job application. Once you are selected, the company's hiring manager or recruiting team will contact you for further proceedings.
Search Articles
Categories
Recent Blogs