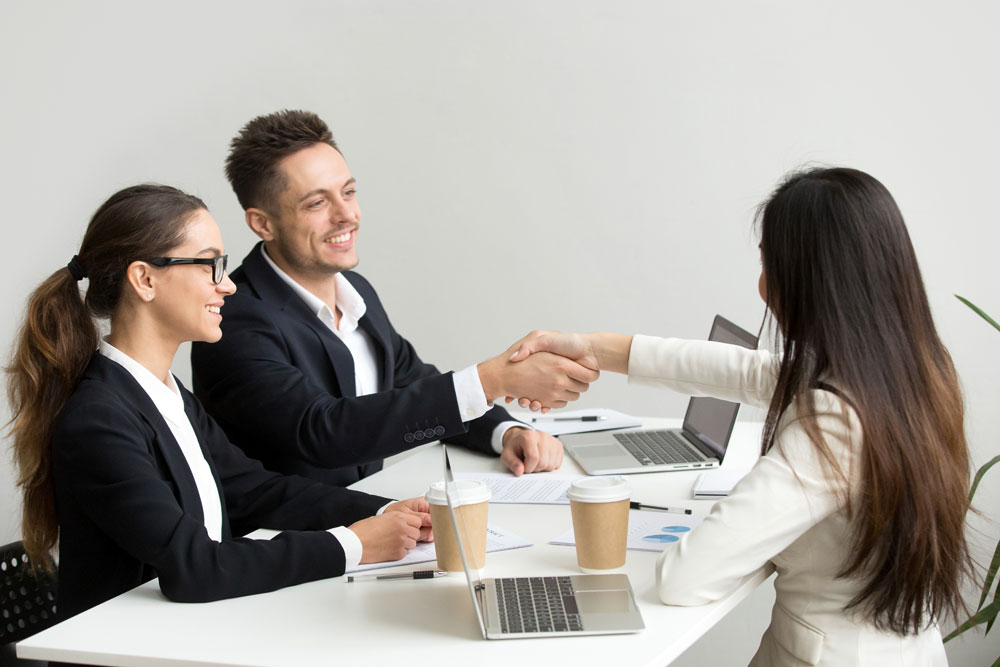 Are you applying for a sales job? When you are about to face a sales job interview, you need to prepare your answers in accordance with the position you are applying for. However, most sales interview questions generally start with an introduction and end with expertise questions for a sales interview.
You need to bear in mind that the questions that interviewers will ask for a sales interview from you are not innocent. There are reasons behind each sales interview question, and you need to try to tick all the boxes with a perfect answer.
This article is to help candidates interviewing for sales representative jobs. Here, we will share the 15 most common sales interview questions and answers. All the mentioned questions for the sales interview are represented along with examples on how to answer them.
5 Questions To Ask In Sales Interview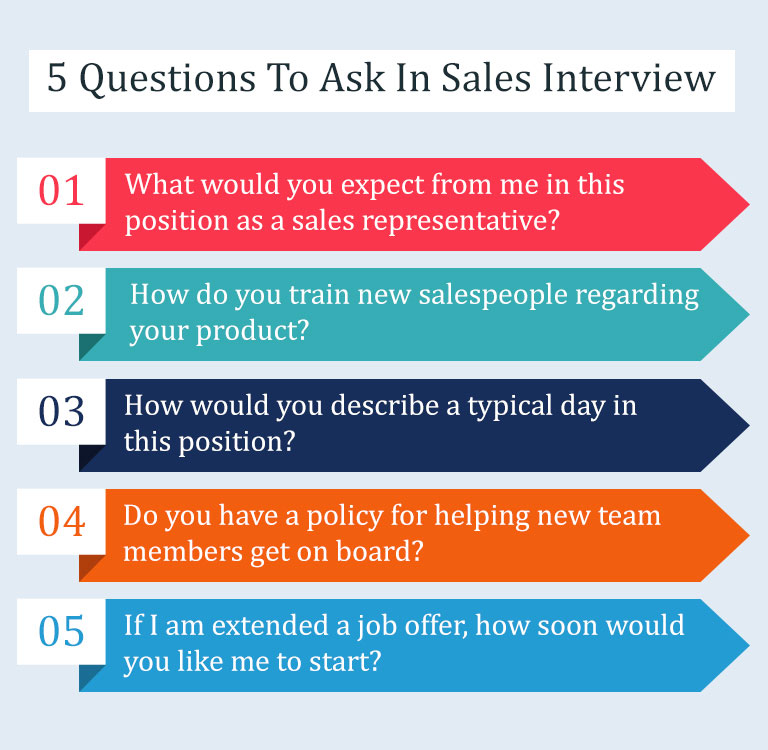 Following are 5 common questions to ask interviewers in sales interviews –
What would you expect from me in this position as a sales representative?
How do you train new salespeople regarding your product?
How would you describe a typical day in this position?
Do you have a policy for helping new team members get on board?
If I am extended a job offer, how soon would you like me to start?
Also read: Strengths and Weaknesses for Job Interviews
15 Common Job Interview Questions For Sales
1. Tell me a bit about yourself.
This is one question that interviewees always ask candidates. The purpose is to check your communication skills and train of thought and see how well you can sell yourself. As the interview is for a sales position, besides the basics such as your educational and professional background, you need to talk about your interest, skills, and achievement (if any) in sales.
If you are a fresher, you can also speak briefly about who you are as a person, where you are from and have been, and your education but ensure that you cover everything in 2-3 minutes.
Answer Example:
My name is Kiran Kumar, and I received my Bachelor's Degree in Commerce in June of this year from Delhi University. I've always had a knack for communicating with people and negotiating with them to sell products and services, for which I have even been named the top-performing employee for 5 consecutive months in my previous company.
2. What do you know about this company?
This question is asked to gauge your knowledge of the company. If you are interested in their business, a dedicated and professional candidate must always research the company and the position they are applying for before the interview.
Here, you need to let them know that you are the person they need to hire because you are the one who knows the ins and outs of the company (or at least enough to let them know that you have done your homework). Apart from this, you can also butter the interviewees by praising the company's work and achievements.
Answer Example:
Founded in 2005 by Mr. Ashish Khanna and Mrs. Monalisa Ralte, this video game company is now the biggest in India, catering to gamers of all ages and genders. The reviews from both employees and customers only make me want to be a part of this fine establishment.
3. Why do you think you are the right candidate for this job?
This is the part where you really have to sell yourself and describe why you are the perfect fit for this role. You need to convince them that you are the best candidate by highlighting your self management skills and achievements.
Answer Example:
As you can see from my resume, I have the required qualifications & skill sets, and the months I spent interning at ABC company contribute to my experience as a fine salesperson. However, apart from what is on the paper, I think that I am the best candidate for this job because when it comes to business, I believe that building a solid relationship with clients and customers is the crucial ingredient for its success. Hence, I always make it a point to listen actively and handle problems with empathy and understanding to meet customer satisfaction.
4. Can you tell me more about your sales experience?
Here, you can brag about your sales experience and the awards and achievements you have received in your previous company to gain brownie points. The interviewer doesn't want to know just what is already written in your resume; he needs to hear it from you to see if you are the right person with the right sales experience.
Answer Example:
Fresh off college, I was offered an internship position at JKL Tech, and within 3 months, I was offered a full-time position as a Sales Executive. During my 3 years working with them, I was always able to meet my target on time, and with my negotiating skills, I am known for turning "Nos" into "Yeses".
Also Read: Reasons for Job Change
5. Why did you choose a career in sales?
This is where the interviewer wants to see if you are in it for the long haul. They do not want to hire candidates who are just in it for the money. Your story will reassure them that sales is really where your interest lies.
Answer Example:
My family owns a bookshop, so you can say that being a salesperson is in my blood. However, managing the bookshop is not my passion, and my family has always encouraged me to find what I truly desire. I wanted to challenge myself, and as I've always been a fan of your brand, I decided to utilize my skills here and gradually climb the ladder of success.
6. Sell me this pen.
This is where the real test comes in. If possible, you need to be convincing enough with your supporting answer concluding facts and figures.
This is quite a common sales interview question for interviewers to candidates, and you can come up with an innovative answer by thinking outside the box.
For instance, let's take the famous scene from Martin Scorsese's The Wolf of Wall Street. Leonardo DiCaprio, who plays a convicted stockbroker, tries to show a group of inexperienced salesmen how sales work. He takes out his pen and tells the group, "Sell me this pen." While many try to convince him to buy the pen, one of the guys takes the pen from DiCaprio's hands, gives him a piece of paper, and asks him to write his name down.
When DiCaprio looks around for something to write with, the guy replies:
"Oh, you don't have a pen anymore. Supply and demand, bro."
Answer Example:
In this tech-focused world, you'd think that owning a pen is inessential, but you'd be wrong. Let's say you are at a bank and you need to sign a cheque, wouldn't it be a hassle to ask others if you can use theirs and wait for them to finish using it? Well, that is not going to happen because this pen, which by the way, is among the highest quality pens, is something you are going to need almost every day in the business world. And the best part is, since you will be my first customer, I will give you a 10% discount. Moreover, I will be your go-to guy for all your future pen and ink needs. Can we move forward with your first order?
7.Would you be willing to work overtime during nights and weekends?
Interviewers often ask this question to test your sense of ownership and responsibility. They need to know that they are hiring someone they can count on during any crisis period. If you want the job, you can tell them that you will rise to the occasion. If you are looking for a healthy work-life balance, be honest.
Answer Example:
Should the need arise, if I am part of the company, it will be my responsibility to see its success, and when a situation calls for an "all hands on deck," I will be there.
8. Are you comfortable making cold calls?
Cold calls are those you make to someone to sell products or services. So, essentially, as a salesperson, you will have to make them now and then. The reason that interviewers ask this question is to see if you are an outgoing person who will sell their products without being shy or awkward.
Answer Example:
Yes, I have no problem with it. My communication and people skills allow me to converse with people easily. Moreover, before I make cold calls, doing some research on the people and company has become a habit of mine which has proven to be very helpful in closing deals.
9. What would you say are your strengths and weaknesses?
When interviewers ask this typical question to ask in interviews, they want to know if your strengths, such as your skills, will be beneficial or not for the organization and, at the same time, check whether your weaknesses will hamper your productivity. They are also checking your 7cs of communication skills and train of thought.
Pick strengths that would fit the position you're applying for. For instance, if the job is for a sales manager, your strength could be your people skills or even strong work ethic. Even if you mention your weakness, turn it into your strength or say you're working on improving in that area.
Answer Example:
Strength: Negotiation skills are my greatest strength in my professional (and sometimes personal) life. I have enhanced this skill through my five years as a salesperson, and it is also why I was quickly promoted as a sales manager in my previous organization. Thanks to it, I can build a stronger relationship with customers and clients.
Weakness: My biggest weakness is that I am not a very organised person. Though it hasn't affected my work thus far, every now and then, my workstation can be quite messy. This is something that I am currently working on improving. I am developing a habit of tidying and organizing my desk and inbox every working day before I leave the office, and I have to say, it is going rather well.
10. What one achievement are you most proud of?
Interviewers ask this question because they want to see what kind of professional you are, be it a career-driven, talented or success-oriented person. If it's not too many, mention all the achievements and awards you have received. If the list is long, pick 2 or 3 of the proudest achievements that have to do with your sales experience.
Answer Example:
Thanks to my communication and negotiation skills, I was named the top-performing employee for 5 consecutive months in my previous company, and I even got a small trophy for always meeting my targets.
11. Can you handle working under pressure?
You need to remember that when it comes to sales, there will be many times when you will have to work under pressure. So, you need to be prepared for that and have your answer accordingly.
Answer Example:
Yes. Being in this business for so long, one unique quality about me is that I can work productively and calmly even under pressure. When a crisis arises, I know that I need to keep calm because anything else will only worsen the situation, and working while feeling panicky will only delay progress.
12.What inspires/motivates you to come in for work every day?
Here, interviewers want to know to see stability and if you will be happy taking on their role. Again, being in sales comes with much pressure. So, they need to know that you will work for a long time even when the going gets hard.
Answer Example:
My hard work and determination come from the need to be a successful person who will provide food for his family, someone they can depend on. So, I always motivate myself to do my job well to be a successful person.
13. Have you ever thought of starting your own business?
Interviewers ask this question because they want to know if you are a team player who will work in a company for a long time as an employee. Even if you are planning on starting your own business, don't give them the indication that you plan or want to start your own business. Assure them that your skills are better suited for work as an employee at their company.
Answer Example:
As I am focused on my career, I do not think about starting my own company. For me, the company I work in is my business. Win or lose, profit or loss, and we are all in the same boat, so my main focus is on the company, where my career will grow.
14. Where do you see yourself in 10 years?
Interviewers ask this question to check your stability, see if you are a success-driven person and if you'd be the perfect candidate for the position you are applying for. When they ask this question, it is usually unclear if they mean long-term or short-term career goals. Now, you could simply ask them, OR you could answer both. Start with your short-term goal and move on to the long-term. This will tell the recruiter that you are a goal-oriented and rational person.
Answer Example:
As I will have to start my career as a sales representative, I would like to be a team leader in 2 to 3 years, gradually climb the stairway of success and hopefully, one day, be among the Top Level Management.
15. What are your salary expectations?
This question is where many candidates don't get through to the next interview process because they asked for too much, while some are offered a lower salary than they are worth. The best way to answer this question is to ask them for their range for the position offered. Use PayScale and Glassdoor to find the average salary offered in the market for the job role you are applying for.
Answer Example:
I am eager to join your esteemed company to grow and enhance my skills. And I am sure that you pay your freshers well. Could you kindly tell me the salary range you offer for a fresher in this position?
5 Tips To Prepare For Answering Sales Interview Questions
Before facing your sales interview questions, you should not rely on your gut feeling and go in blindly. You need to prepare yourself for questions to ask in sales interviews in the best possible ways for you to land the job. Take a look at 5 best tips for sales interview questions and answers to equip yourself better:
1. Do Your Research
The night before the interview, research everything you can about the company, the interviewer, the position you are applying for, salary range in the market and common interview questions and answers. Do your homework, and once you know what you are up against and have the answers, your confidence will multiply. Do not memorize the answers you get on Google. You need to tailor it according to the skills and experience you have attained.
2. Dress To Impress
Try to find out the company dress code by checking their images on their website or social media profiles. You could also directly ask the interviewer or even ask anyone who knows someone who works in the company you are about to be interviewed for. Unless the person who has contacted you for the job tells you the dress code for the interview, always assume that it is formal. And by formal, we mean neatly pressed suits. If you do not own a suit, you could also go with business casuals, which come somewhere between suits and jeans or t-shirts. Trust us, wearing power suits or smart clothes will make you feel like a million bucks, and answering sales interview questions will be much easier with confidence.
3. Mind Your Body Language
When answering sales interview questions, sit comfortably. Sit up straight but not to the point that you are too uncomfortable. Ensure that your legs are also straight and still. Lean forward now and then to let the interviewer know that you are actively listening but avoid overdoing it and always maintain eye contact when you are speaking.
4. Ask Questions
When we say ask questions, we do not mean that you should interrupt the interviewer while he is speaking and bombard him with gazillion questions. No, stop there, and hold your questions for the end of the interview. Asking questions will show them that you are an interested candidate who has been paying attention to what has been said and done in the interview.
5. Follow-Up
Vacant positions are filled up swiftly on accounts that the company needs more manpower ASAP. So, it is wise that you follow-up with them within 24 hours of your interview. While sending the thank-you note, add that you would be waiting for their response.
We hope this article helps you get rid of your sales interview jitters, and Apart from that, you can check the latest Sales jobs in India.
We will leave you here with our best wishes.
Until next time, good luck!
Search Articles
Categories
Recent Blogs