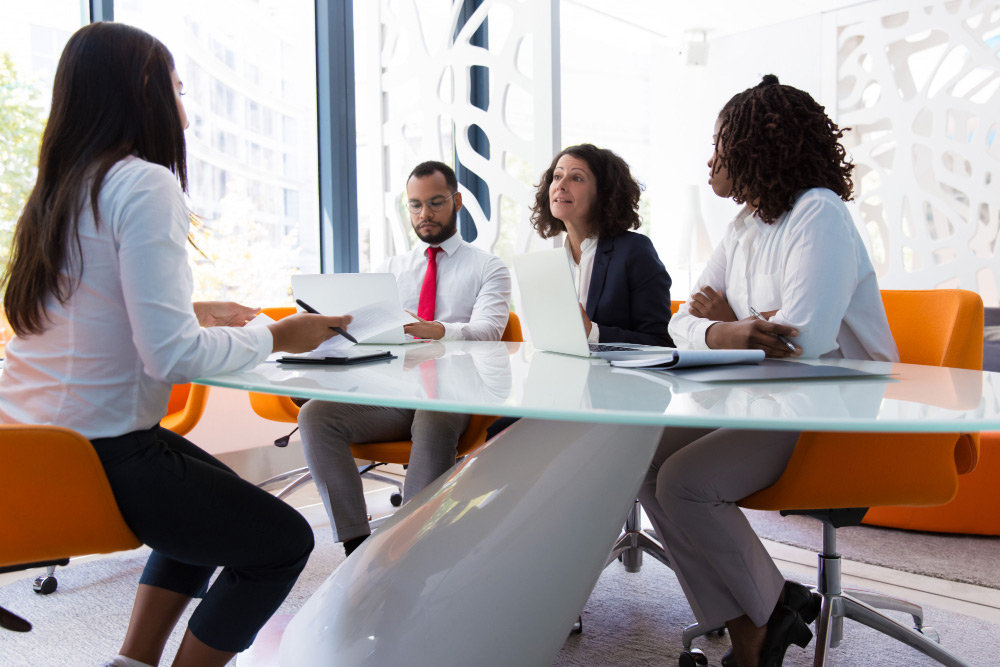 Interviews can be daunting, especially for first-timers. Sometimes we can't even give proper answers to questions as simple as "Tell me about yourself." When put on the spot, our mind goes blank.
When asked Tell me about yourself for freshers in job interviews, some randomly blurt out whatever they can remember about themselves, while some share their entire life story starting from their birth. And then some clam up because they are too nervous to speak.
Well, for freshers who are about to face their first interview, worry not, for we will guide you on how to answer Tell me about yourself for freshers.
In this article, let's –
get to know why interviewers ask, "Tell me about yourself",
find how to answer Tell me about yourself for freshers, and
get Tips to answer Tell me about yourself for freshers
Reasons: Why Interviewer Ask "Tell me about Yourself"
"Tell me something about yourself" is one of the most common questions interviewers ask candidates. Now, while there is no one correct answer, answering it in a way that interviewers don't approve of will cost you the job you are applying for. So, why do interviewers ask "Tell me about yourself" in interviews?
Here are some of the reasons why:
It's an ice-breaker.
To check how well your thought process works.
To check your communication skills.
To see if you are confident enough for the position.
To see how well you will fit in their organisation.
To get to know you better.
The interviewer may also ask this question in different ways, such as –
Tell me something about yourself.
Tell me a bit about yourself.
Introduce yourself.
Walk me through your resume.
Also Read: Strengths and Weaknesses Interview
Formula: How to Answer Tell me about yourself: Freshers
When answering "Tell me about yourself," you need to talk about your life experiences that have contributed to upskilling yourself. You can also speak briefly about who you are as a person, where you are from and have been, and your education.
Here is a formula for freshers to answer "Tell me about yourself" that you could use to frame your answer:
Start by thanking the interviewer for their time, then introduce yourself and talk about your educational background. Try to keep talks of your personal life to a minimum because talking about topics that are outside of the job profile you are applying for will only waste both your and the interviewer's time.
Example: First of all, let me start by taking this opportunity to thank you for making time for me. My name is Shilpa Valvi, and I received my Bachelor's Degree in Journalism in May of this year from Madras University.
Move on to why you are interested in the field or sector.
Example: I chose the field of Journalism because it is a dream of mine to be a writer, and as I have already taken English as my main subject in high secondary school, I knew that Journalism would give me a much broader scope.
Share an experience or two about any work you may have done during your internship or in college.
Example: I have written a few articles for travel and fashion websites, and I have also won some writing competitions, which, as you can see, I have mentioned in my resume.
Then move on to why you are the right candidate for the job and what your goal is (ensure that your goal – be it long-term or short-term, includes sticking around in the company for a long time).
Example: I believe that I am the right person for this job because not only do I have the right qualification and skill sets, I have also been told that I have a creative and imaginative mind, and no matter the topic, whether it's politics or products or IT, I have a knack for creating exciting content. My ultimate dream is to become a successful Content Writer and gradually climb the top of the ladder, preferably in a fine organisation like yours.
10 Tips to Answer Tell me about yourself for Freshers
1. Keep it brief and to the point
Make sure that you cover this in 2-3 minutes. As we have mentioned earlier, you don't have to walk down memory lane and tell your entire life story. The interviewer doesn't really care about the names and years of all the schools you went to, what your parents do for a living, or how they raised you. Unless it is in line with the position you are applying for, refrain from talking too much about your personal life. Keeping it too long and going way beyond the necessities will only waste your and the interviewer's time.
2. Try to give an answer that the interviewer won't see in your resume
When interviewers ask candidates to talk about themselves, many candidates just recite all the details written on their resume from top to bottom. Avoid this at all costs. Talk about at least one thing that isn't mentioned in your resume. For instance, you could share a bit about your internship experience. This is your chance to stand out from the crowd.
3. Talk about your accomplishments and skills
As you are a fresher, apart from your qualifications and minimal experience, your skills and achievements are your selling points. Be it soft skills or hard skills, an award you received in school/college, or being the leader of your department/house/sports team, mention them. This will show them that you are an all-rounder and hard-working person.
4. Keep it positive
Do not mention any weakness or failure when answering this question. Focus on all the good and positive things you have accomplished. And, do not bad mouth anyone or your college, school, or any organisations.
5. Be professional
From the beginning to the end, ensure that the language and tone you use are professional. Don't use any slang words and keep your grammar in check. Remember that one of the reasons you are asked this question is to check your communication skills.
6. Mind your body language:
While answering the question, maintain eye contact with the interviewer, and should you feel uncomfortable, look away for a few seconds and maintain eye contact again. Also, sit up straight but not to the point that you are too uncomfortable. Ensure that your legs are also straight and still. Do not slouch, start or fidget or squirm.
7. Show your enthusiasm:
Hiring managers do not want to hire people who come off as dull and unenthusiastic. Put on your smiling face and show your enthusiasm when answering Tell me about yourself for freshers to present yourself as a likeable personality. Smiling also lets them know that you are confident and comfortable.
8. Be confident
Being confident is key when providing answers no matter the question. So, when interviewers ask Tell me about yourself for freshers, ensure that you deliver your answer with confidence. But don't be too overconfident to the point that you seem smug and arrogant.
9. Prepare
Before any interview, always assume that "Tell me about yourself" is a question the interviewer will ask. So, being prepared to answer it in accordance with the position you are applying for is a must. To prepare, list down all your skills, experience, and accomplishments, which are relevant to the job profile. If the list is too long, pick the ones you think would have the most impact.
10. Practice:
Once you have prepared your answer with the help of the list, practice saying the answer out loud. Do this in front of a mirror or ask your friends or family members to be your audience. The more you practice, the more confident you will be.
Also Read: Tips to introduce yourself professionally
Tell Me About Yourself Sample Answers for Freshers Candidates
If you are looking for the "Tell Me About Yourself" best answers for your upcoming interview, take a look at some of the following Tell me about yourself sample answers for freshers –
Answer Sample 1:
"Let me start by thanking you for taking the time to interview me. As you can see on my resume, My name is Aakansha Malhotra, and I am a BBA graduate from XYZ University. As the eldest amongst my siblings and a person who always sees the glass as half full, I have always been good with communication, a rule follower with good leadership and problem-solving skills. I know that I could make a good HR Recruiter because I have the right persuasive skills to bring the right people on board. As I have great respect for the Human Resources industry and your organisation, I would love to be a part of your team and see this organisation grow and succeed."
Answer Sample 2:
"I would like to thank you first of all for this opportunity. My name is Diya Bisht, and I have a bachelor's degree in Technology from LMN University, specialising in Computer Science and Engineering. The reason that I chose this field is that I have always been good with computers and numbers. And thanks to these skills, I was able to quickly become proficient in SQL, C programming and Java, to name a few, and led my team in college to win a college-level competition.
I would be the perfect candidate for the position of Full Stack Developer in your company because I have the qualification, skills and keen interest to build my career here."
Answer Sample 3:
'Let me start by saying how grateful I am for this wonderful opportunity to sit in front of you. My name is Jordan Hnialum, and I graduated top of my class from GTY University with a major in Economics. After I graduated, I got to intern at Company JKL as a part-time assistant to the team leader of the Data Analytics Team, where I got to upskill both my soft and hard skills.
I chose this field because I come from a family of business people, and I have always been an inquisitive person who is good with numbers, data and problem-solving.
If we add my qualifications, skills, and experience, I believe that I am the perfect candidate for this position. Moreover, I would love to join your company because I have heard only good things about you from your current and ex-employees, who all sing praises of how well you treat your employees and give them room to grow within the company."
Answer Sample 4:
"My name is Ashish Khan, and I would like to first extend my gratitude for giving me this opportunity to interview for the position of Graphic Designer. After completing my 12th, I realised that rather than going to college, I should focus on my real interest, which is graphic designing, and try to turn it into a career. So, I pursued a 1-year diploma course in Graphic Design where I was able to easily grasp the handles of software such as Corel Draw, Illustrator, InDesign, Adobe Dreamweaver, Adobe Photoshop, and Affinity Designer, among others and learn programming languages such as HTML/Javascript.
Thanks to my creativity and visual design skills, I worked with many websites and magazines while I was still pursuing my diploma course.
As your agency is one of the best advertising agencies in India, it is my dream to work and establish my career here."
Answer Sample 5:
"Thank you, Sir/Maam, for this opportunity. My name is Sunny LKR and I am from Bangalore. I moved to Delhi 5 years back to pursue my Bachelor's degree in Social Work from DU. After graduating, I interned at Goonj where I was an administrative assistant and helped them in organising, managing, and keeping their southwest office running. Through my other responsibilities such as case management and treatment options, I also got the chance to help many people in need during my time there. It was a fully rewarding experience.
I chose this field because of a personal experience that I would rather not disclose, helping people and animals and fighting for the underdogs became my passion. I was 10 years old when I vowed to make the world a better place for as many people and animals as possible.
I think I would be the perfect person for this job because apart from my skills, experience and qualifications, I really do care and would dedicate myself to the cause and every project that may come along the way."
Conclusion
Although "Tell me about yourself" may seem like an innocent question, it often is not as there are many reasons why interviewers ask this question such as to check your communication skills or to see if you would fit in well with other employees, among many others.
So, be careful about what you say and don't say by following the formula, tips and sample answers for "Tell me about yourself" we have shared above to ace your upcoming job interview.
We will leave you here with our best wishes.
Search Articles
Categories
Recent Blogs