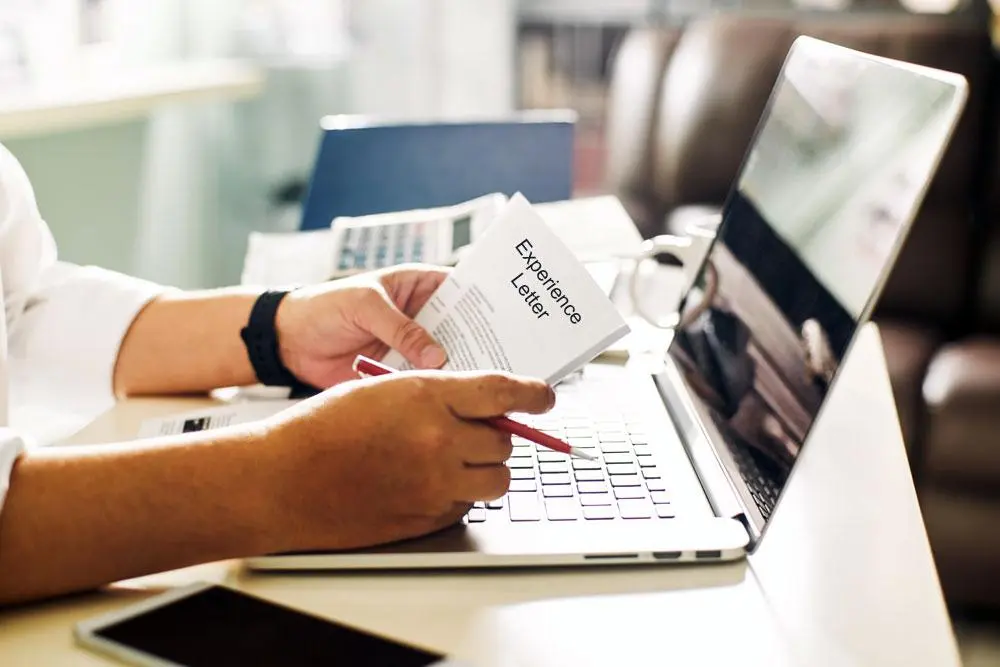 An experience letter is an official form of documentation given by the employer to employees as proof of employment with the organisation. Whenever an employee wants to switch or change their job, the employer must give them an experience letter on the last day of their working day or 30-45 days at the latest (depending on the organisation's policy)
Also, the experience letter includes valuable feedback from the employer of the company.

An experience letter is one of the essential documents provided by the employer to the employee. It consists of the following::
Work Done by Employee
Skills attained by Employee
Time Duration of Work
When the employee decides to switch to a new job, he must provide proof of his previous employment experience in the form of an experience letter.
In simple terms, an experience letter is a formal document given by the head of the organisation to the employer that the employee has spent the specified time with the company to the best of their knowledge.
Details required in experience letter
A well-written experience letter usually contains the following parameters
Letterhead of Employer( Organization ): As this experience letter is from your organisation, you need to represent yourself as a professional organisation. Using a letter with your letterhead on top will do just that.
Date of issue: Add the date of issuance on the second line and the top right corner of the letter.
Employee's details: The Employee's details must include his designation, roles, responsibilities, skills, and tenure. Depending on your organisation's rules and regulations, you may also add the salary of the Employee in the experience letter. Some organisations do not mention salaries, as salary slips are usually attached.
Conduct of the Employee: This is the part where you mention if the Employee's work has been up to par or sublime. Do bear in mind that giving negative feedback also has the giving you and your organisation a negative impression. In the world of business, it is all about being professional and choosing the right words.
Closing Statement: A strong conclusion in the employee's favour would benefit him because it would boost his chances of being hired by another employer. After the closing message, there should be a company seal or the employer's signature.
How to write a work experience letter?
Employers have to write experience letters for their employees from time to time. If you are new to writing one, follow the steps below to draft an effective experience letter:
Use Company Letterhead: As this is a formal document, it should be written on your company letterhead that includes your company name, logo, and address.
Keep It Professional: From the first word till the very last, keep it formal. The tone, font and format you use should remain professional and consistent. The language you use represents who you are as a company.
Add All Relevant Details: By relevant details, we mean the employee's name, designation, duration of employment (date of joining and leaving the company), roles and responsibilities in brief, etc. Also, ensure that you add the date of issuance.
Why is a Work experience letter important?
For jobseekers, experience letters are written proof that they have the right experiences and skillsets required for the job role they are applying for, which raises their chances of getting employed. Moreover, if an experienced employee does not have proof of his work on paper, his chances of getting a salary for an entry-level position are high.
Read More: Experience Certificate Format and Samples
Experience Letter Format
It is required that an experience letter should be well structured and should be written in a formal tone. Let us take a look at the format of an Experience Letter.
Name of the Company/Organization
(Name of the organization must be placed at the top left corner of the Experience Letter)
Date of issuance
Subject
: Experience letter to (Name of Employee)
To whom it may concern
Designation & Tenure of Service
(Define the designation & and the period of Employment)
Role & Responsibilities
(A brief description of the role and responsibilities of the employee)
Sincerely,
Employer's/ Owner Name
Designation(Owner/ MD/ CEO of the Company)
Signature
Company's Stamp/Seal
Read More: Email Writing: Format & Samples
Experience Letter Sample
After reviewing the format of the experience letter, let us take a look at a sample of the Work experience letter.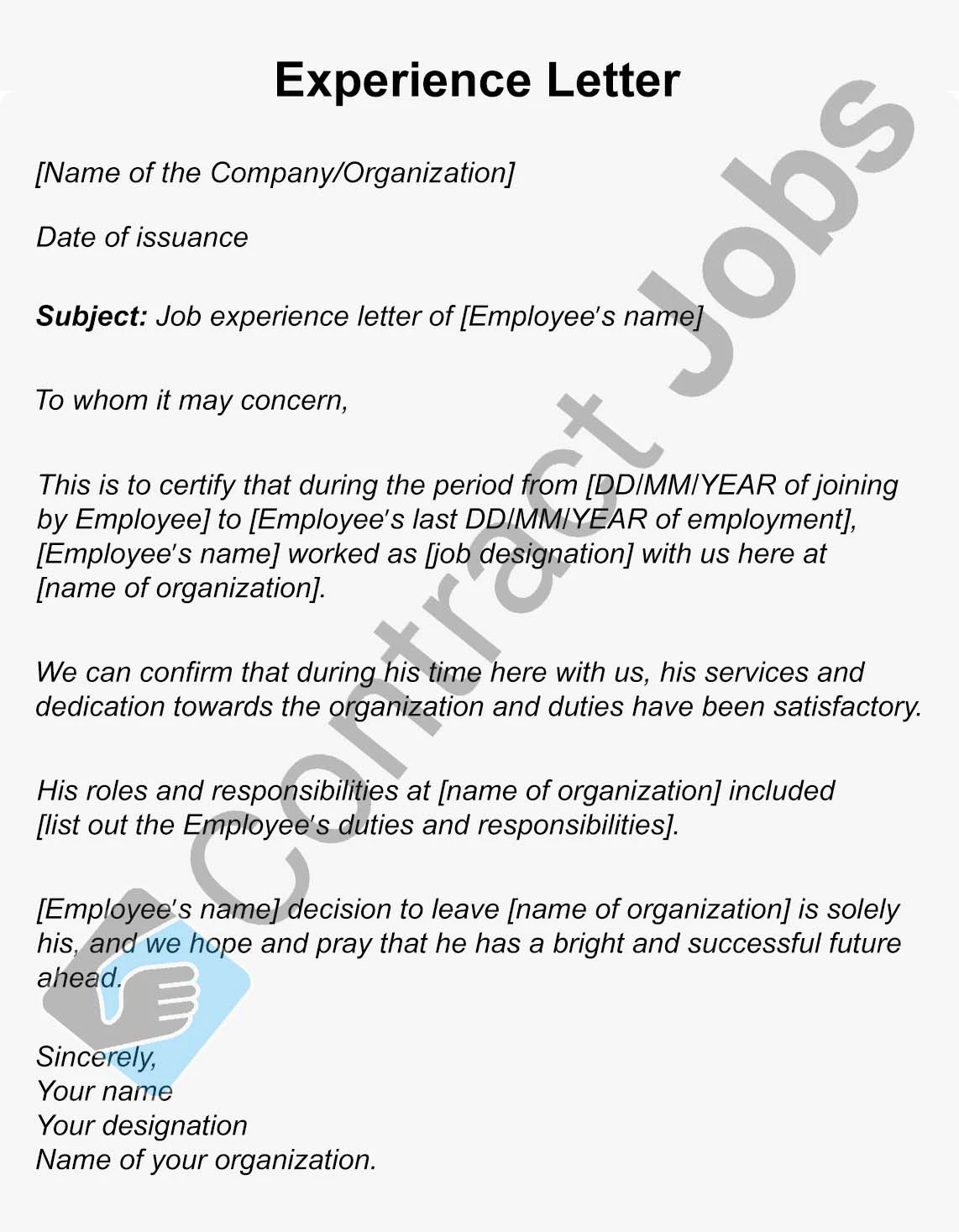 Download Experience letter word file
Work Experience Letter Sample: IT sector
Download Experience Letter Sample for IT sector in Word
Work Experience Letter Sample: SEO Executive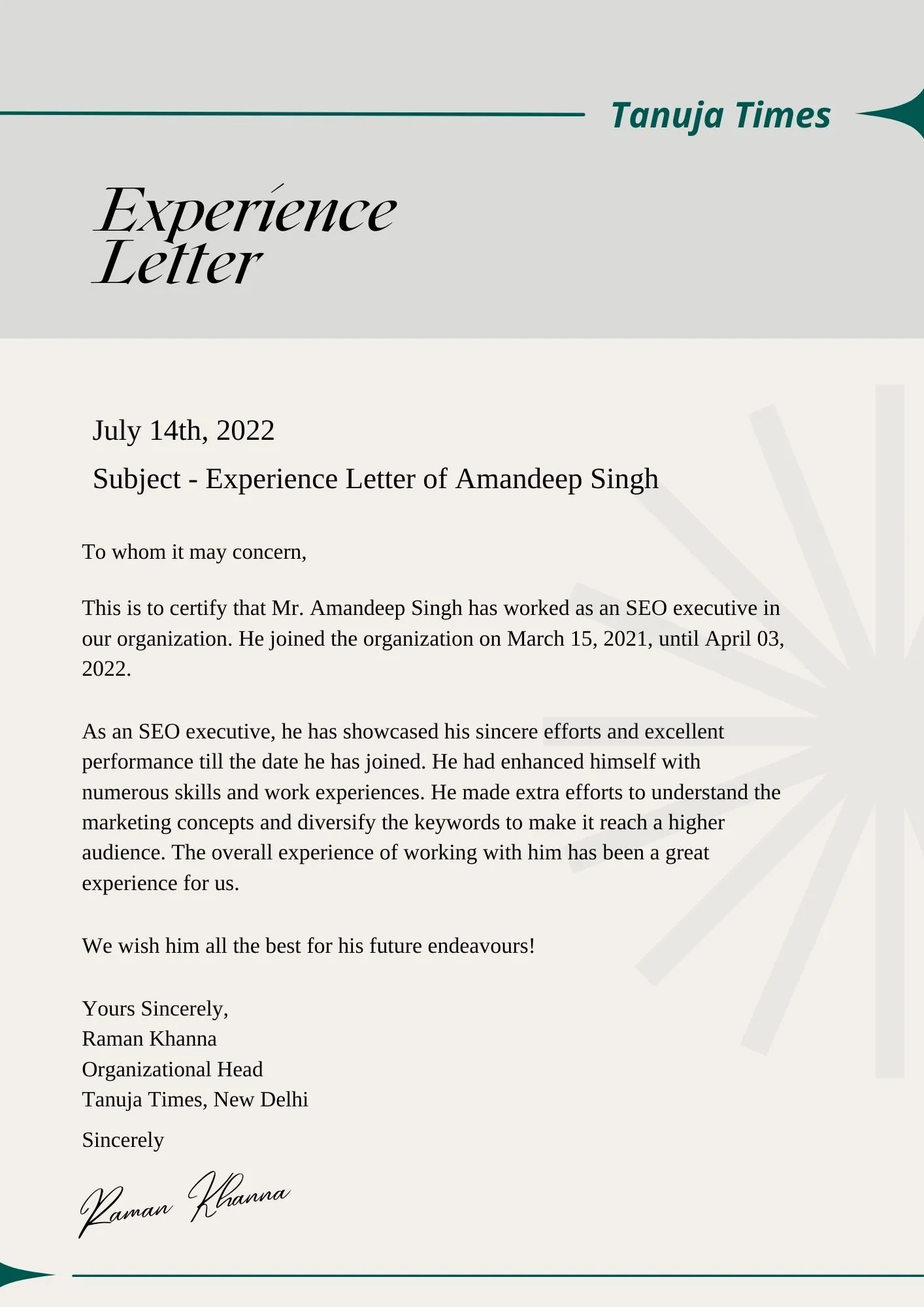 Work Experience Letter Sample:Tourism and hospitality industry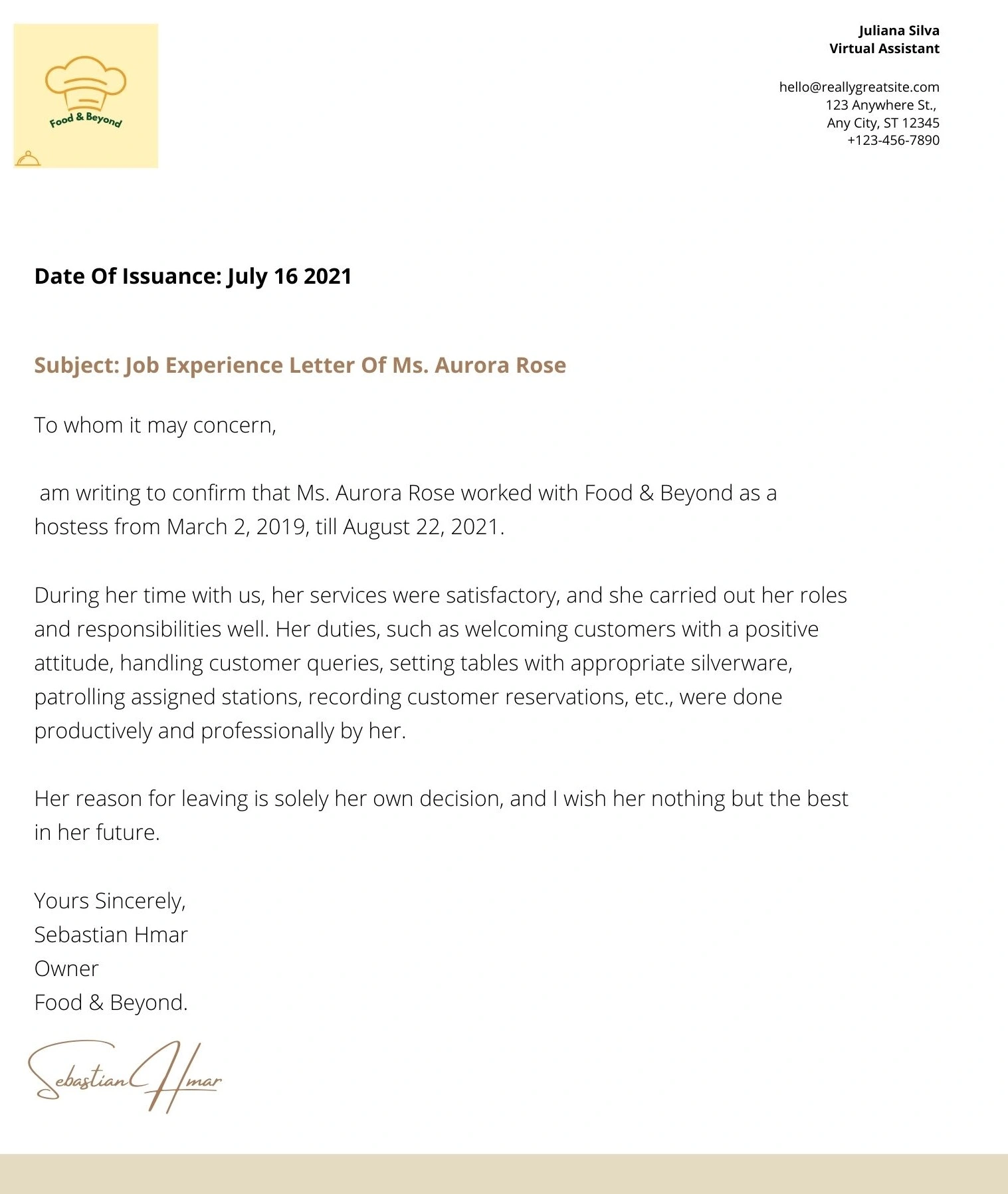 Download Experience Letter Sample Word File: Tourism and hospitality industry
Work Experience Letter Sample: Teacher(Education)
Mimi Memorial School
Date of issuance: July 16, 2021
Subject: Job experience letter of Mrs Hope Ralte
To whom it may concern,
This is to certify that Mrs Hope Ralte has been working with our school as an English teacher for Classes 6 and 7 from April 5, 2014, to June 18, 2021.
During her employment with Mimi Memorial School, she has graced our school with her excellent teaching skills. Students have been responding well to her warm nature and engaging teaching methods.
Her roles and responsibilities include planning and preparing lessons based on national curriculum guidelines, following the designated curriculum completely on time, implementing proper classroom management practices, encouraging students to focus on their studies and to participate in extracurricular activities, assessing and dealing with (when necessary) students' behaviours, participating in staff as well as parents-teachers meetings, and utilising to-date teaching methods, among many others.
We have enjoyed watching her grow and upskill herself during her time with us, and we wish her the best of luck in her future endeavours.
Sincerely,
Jordan Hnialum
Principal
Mimi Memorial School.
Download Experience Letter Sample Word File: Teacher
Work Experience Letter Sample: Financial Analyst
KCB Enterprise
Date of issuance: March 12, 2021
Subject: Job experience letter of Mr Sahil Mann
To whom it may concern,
This is to certify that Mr Sahil Mann worked with us from January 23, 2019, till January 26, 2021, as a Finance Analyst for our organization.
We can confirm that he has been a diligent and loyal employee while with us here at TLK Finance. He showed exemplary team spirit and was loyal to his job roles and responsibilities, which included providing financial forecasting, analysing financial data and performance, preparing reports, looking for investment opportunities, and evaluating profit plans, among many others.
Mr. Sahil Mann solely decided to leave TLK Finance.
We wish him all the growth and success in his future.
Sincerely,
Amit Shah
KCB Enterprise
Download Experience Letter Sample Word File: Financial Analyst
Work Experience Letter Sample:Retail Sales
Enchanted Woods
Police Bazar, Shillong
Date of issuance: March 12, 2021
Subject: Job experience letter of Ms. Angel Warji
To whom it may concern,
This letter aims to certify that Ms Angel Warji worked as a Store Manager at Enchanted Woods from December 2, 2019, to January 20, 2021.
During this period, her services were excellent, and the dedication and time she has given to the store are admirable.
She started as a sales executive at Enchanted Woods and was able to get promoted in just a year.
Her roles and responsibilities include-
Screening, interviewing and hiring staff
Handling budgets and maintaining and financial records
Handling customer complaints and queries
Monitoring pricing and stocks
Making sure that health and safety legislation is followed
Conceiving promotional materials and displays.
We hope and pray that her future is a bright and successful one.
Should you have any questions, feel free to email me or call our office during office hours.
Sincerely,
Claire Smith
Owner
Enchanted Woods.
We hope the above information comes in handy should the time come for you to draft an experience letter.
Read More: Relieving Letter Format and Samples
Do bear in mind that not all organizations follow the same format. While some choose to disclose the Employee's salary, some opt to leave it and instead attach salary slips. The format also depends on the company culture. Some may be written in a friendly tone, while others in a professional one.
We hope our article on experience letter format and experience letter samples was useful to you. We will leave you here with our best wishes.
Good luck!
FAQs Of Experience Letter Format
Q1. How is an experience letter defined?
Ans – An experience letter is a formal document given to employees by employers stating that the person worked for their company for a specific period of time. It must include the employee's designation, roles and responsibilities in brief, date of joining and leaving the company as well as salary.
Q2. Is an experience letter different from a recommendation letter?
Ans – Yes, an experience letter and a recommendation letter differs. An experience letter states the duration of which the employee worked for the company. A recommendation letter, on the other hand, contains statement by the employer stating that they would be willing to recommend the candidate's skills and abilities to their potential employer.
Q3. Does the experience letter include salary?
Ans – Yes, ideally, an experience letter should mention the employee's salary as it will help potential employers see the candidate's work performance and payscale.
Search Articles
Categories
Recent Blogs