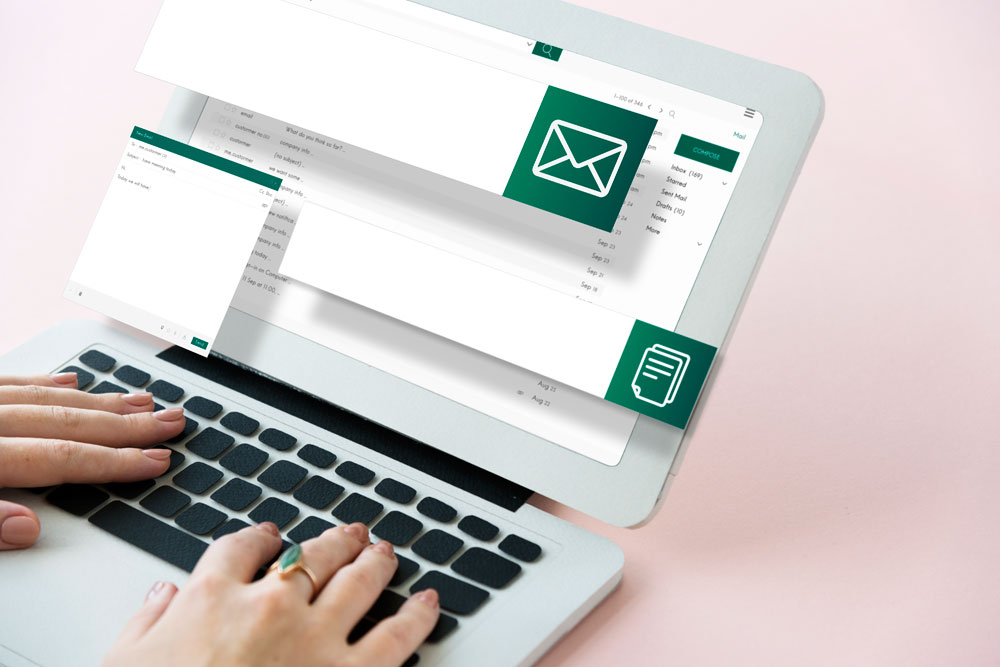 Email Writing
Email writing is one of the fastest and most common modes of communication, especially in the professional world. The right email writing format goes a long way in effectively delivering the message. Hence, the best type of email writing is the one that represents clear information in fewer words.
In the Blog, we will discuss
Steps of Email Writing
Different Formats of Email Writing

Informal Email Writing
Formal Email Writing

Samples of Email Writing
Email writing format can be used for formal and informal writing for multiple purposes. This article covers everything you need to know about formal and informal email writing, along with some samples.
How to Write an Email?
Email writing is a crucial component of Professional communication. If your email does not find the proposition interesting, getting a revert from recipients becomes difficult. That being said, you should practise your email writing skills. Get right to the point. Simple and clear email communication is the best.
When you sit down to write emails, you should keep a few Tips in mind. Similar to informal and formal letters, emails can be casual and professional. Depending on the type of email you are writing, the format varies. On the other hand, spelling and grammar accuracy are important considerations.
Email Address
Always ensure that you mention the correct email address because a slight error on your part can land your email with the wrong person. So, double-check the recipient's email address.
Subject
Ensure that you add a subject line that is not too lengthy or misleading. It should be short, simple and understandable. Preferably, it should be less than 60 characters. The more compelling your subject line is, the more likely the email will be opened and read. For example, if you are applying for a leave of absence, the subject line can be as simple and as straightforward as "Application for leave".
Salutation
After you have chosen the tone and language you want to use for your email, address the receiver with a proper salutation. For example, if you have selected to use formal language, you can start with "Dear Sir/Ma'am" or "Respected Sir/Ma'am", and for informal language, you can add the person's first or last name after "Dear".
Body
Before you move on to the body of the email, ensure that you have all the information and facts, such as the exact dates, names or figures and stick to the standard email font size and style. When you start composing the email, ensure that you use the 7Cs of Communication (clear, concise, concrete, correct, coherent, complete and courteous). We advise you to avoid using slang, initialism or colloquialism such as "kinda" or "TTYL" even if you are emailing a close colleague/classmate.
Sign Off
Lastly, sign off the email in a professional tone and proofread whatever you have written before hitting the send button. The closing of an email is as important as its introduction; therefore, it should be genuine that look compelling to the recipient.
Email Writing Format With Sample
Here are some email writing formats and samples for individuals for different situations/events that they can use for reference.
Email Writing Format
To: [ Email Address ]
Subject: [ Mention the Purpose of Email Writing ]
Salutation: [ Respected Sir/Madam ]
Body: [ Example: Sir, I would draw your attention …………………………….. ]
Sign Off:
[ Thanks & Regards ]
[ Name of Sender ]
[ Organization/School/Institution Name ]
[ Contact Number ]
Sample of Informal Email Writing
Farewell Email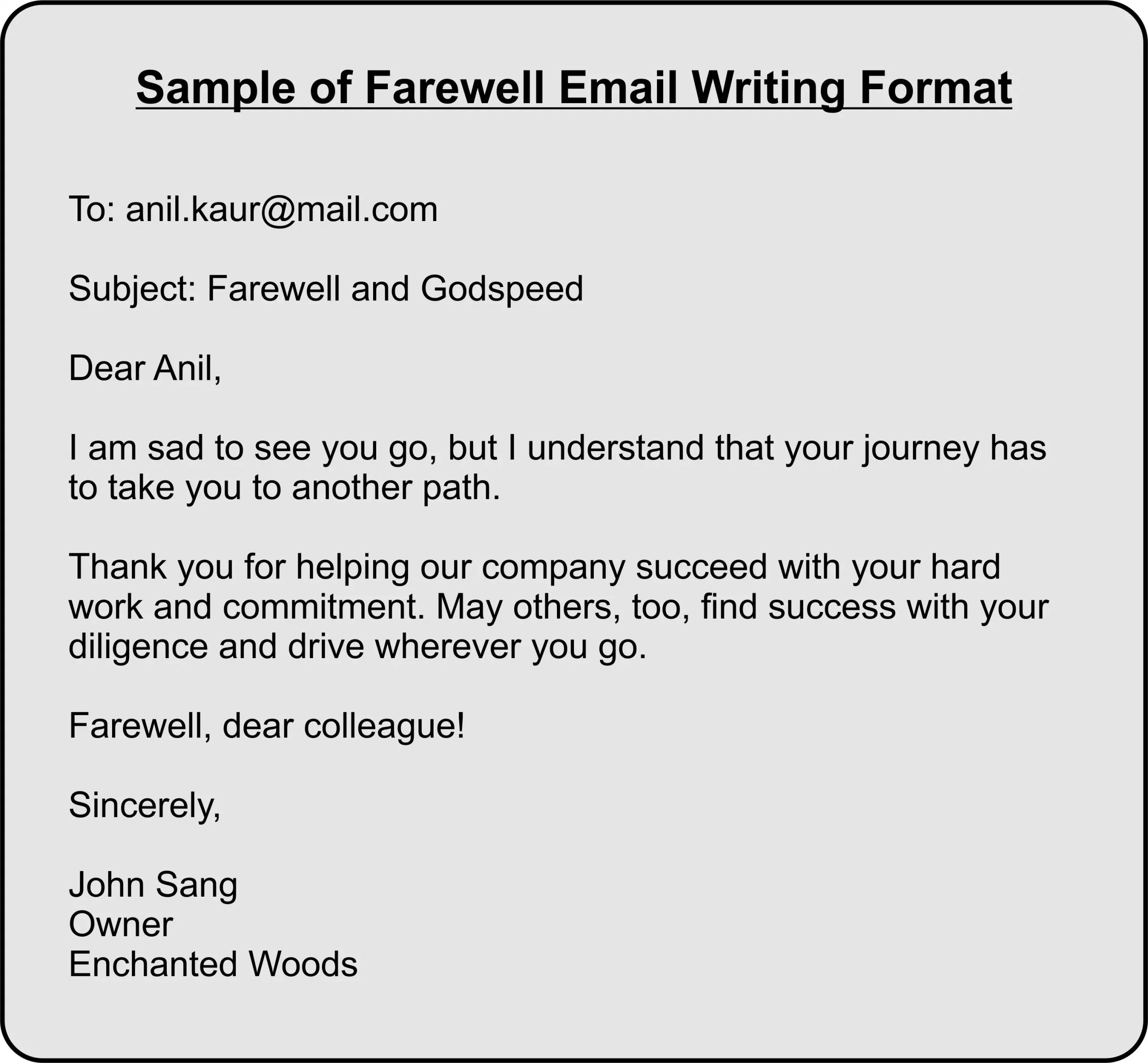 Email About Holiday Trip
To: karnwadhwa420@gmail.com
Subject: Planning Holiday trip with Friends
Dear friends,
It has been more than a month since I planned to go on a holiday with you. I am thrilled to let you know that I have booked a thrilling and adventurous tour to Manali, and we will be leaving on the 25th of September.
This holiday will be a 3-week long tour. We will visit Mall road after reaching Manali and explore new places, including waterfalls, adventure activities, and much more.
I have attached a whole itinerary with this email, and please let me know if any of you have any suggestions.
Best Wishes,
(Name)
Random Email To A Friend
To: morris.lang@mail.com
Subject: Just checking in
Dear Morris,
I hope this email finds you well.
I have been meaning to write to you for ages, but as I just started my new job at Company X, I have been a little occupied.
How are Mandy and the kids? I hope Tom liked the birthday gift I sent him last month.
Our Barbara just graduated from high school last week, and I am glad to share with you that she was the topper in her class. She has decided that she wants to go to XYZ College to prepare for the entrance exam. Hopefully, she gets it.
It has been too long since our families got together. Do let me know when you all have time to come over for dinner.
Warm regards,
Sebastian Knight
Congratulatory Email
To: jean.lrl@mail.com
Subject: Congratulations!
Dear Jean,
I got your invitation to the opening of your new restaurant.
Congratulations!!
I know this has been your dream for ages, and now that it is finally coming true, I am incredibly proud of you. No one deserves this more than you.
I will see you at the opening. Can't wait!
Warm regards,
Moira Reed
Formal Email Writing Format
To: [ Email addressEmail id of the concerned person and authority ]
CC: [ Email id of additional persons who also receive the email with visible email ids ]
BCC: [ Email id of additional persons who also receive the email with hidden email ids ]
Subject: [ Purpose of Email ]
Greetings: [ Respected sir/Dear sir ]
Main Body: [ Introduction, Example: Hi Anil, I would like to wish you Good luck for your future ]
Ending: [ Include ending ]
Attachments: [ Attach important pdf and files ]
Signature: [Add statements like Thanks & Regards, sincerely or faithfully and place your name ]
Email on Seeking Information Regarding Course Details
To – Concerned person's email ID
Subject- Information regarding the course
Dear sir/madam
I'm writing to inform you that I completed a B.A. Hons degree with English as a specialization from ABC University. I need you to email me the information about the high-level English-speaking course I plan to enroll in at your institute. If you provide the information to the given email address, I will be highly thankful to you.
Thanks & Regards
Yours faithfully
Manisha
Email on introducing a new employee to your team
To: office@gmail.com
Subject: Meet our new HR Recruiter
Good morning team,
Please give a warm welcome to our newest joinee, Maria Solo, who will be a part of the HR Recruiter team, starting today. She will help screen and calling candidates for XYZ company.
Please, make her feel at home and feel free to drop by to say hi and congratulate her on her new role at her workstation in the Recruitment Department.
Thanks & Regards,
Bandana Kaur
Human Resource Manager
XYZ Company
Mob: 7686578647
Email on Official Intimation of Your Resignation
To: Concerned person's email id
Subject: Resignation
Dear Sir/Madam
I want to let you know that I plan to complete my study in the ensuing month, and I intend to resign from the ABC position at XYZ Company, which will take effect in one month.
I am grateful for all the help and professional growth opportunities you have given me during the years I have worked for your organization. I will always value the work experience I was able to gain at this place.
Yours faithfully
Komal
Email informing your employees about the change in work timings
To: office@gmail.com
Subject: Change in Work Timings
Good morning team,
I would like to start by thanking you for your hard work and dedication.
As our company is currently undergoing a major rebranding process, the number of projects are increasing. So, to keep up with the deadlines, management has decided that just for the next few months, working hours will be from 9:30 am to 6:00 pm, which will be in effect starting the coming Monday, i.e., 03/10/2022.
We would be very grateful if you could kindly abide by the new office timings.
My door is always open should you have any questions or suggestions.
Regards,
Meena Sharma
Human Resource Manager
ABC Company
Mob: 7686578647
Sample of Formal Email Writing Format
Resignation Email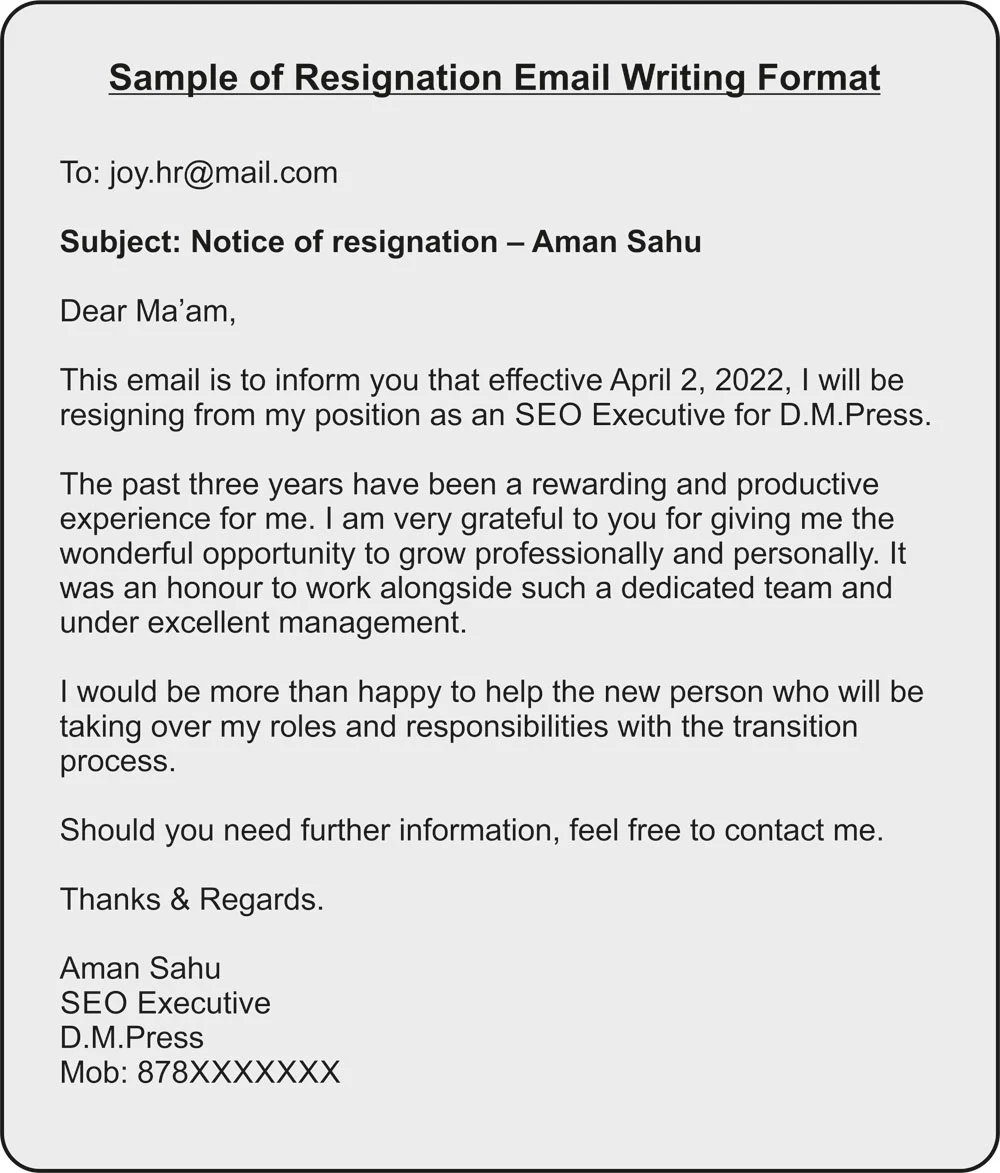 Marriage Leave Application

To: joyce.walker@netimes.com
Cc: Aman.singh@netimes.com
Subject: Marriage Leave Application
Dear Joyce,It is with a happy and hopeful heart that I write to you to inform you that I will be getting married on the 6th of May, 2022 and for preparation as well as my honeymoon, I will need to be on leave for half a month. I would appreciate it if you could kindly grant me leave from the 28th of April till the 14th of May 2022.Should you need anything from me in my absence, please feel free to contact me or Aditi Sayal, who will take over for me while I am away. Please find the wedding invitation I have attached here. I hope you can make it.
Yours sincerely,
Kenny Adams
Mob: 878XXXXXXX
Graphic Designer
Digital Marketing Team
NE Times
Sample of Email Writing format for Students
Annual School Sports Announcement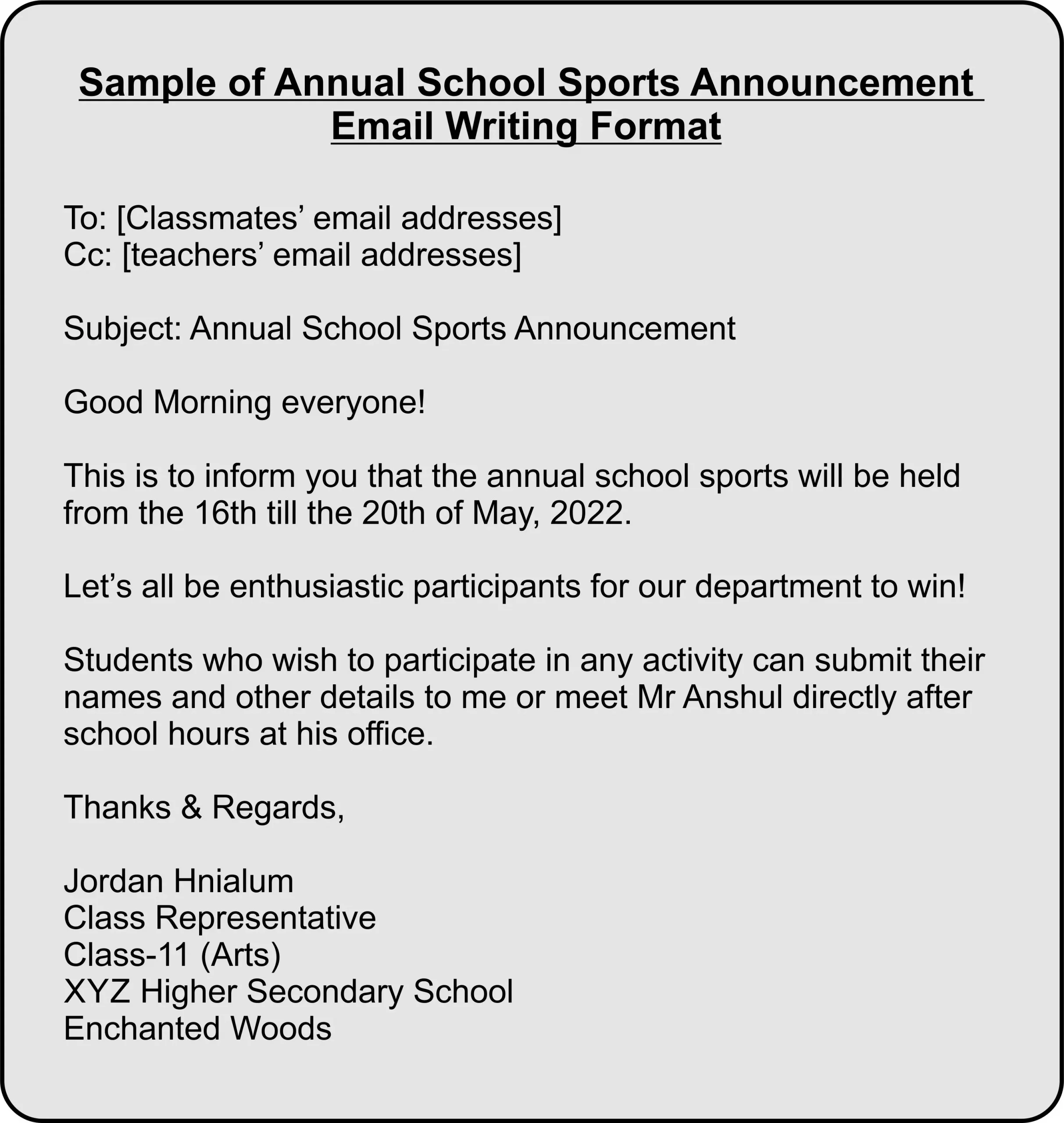 Sample of email writing format for class 12 students
Science Project Email
To: Bindi.basu@mail.com
Subject: Regarding Science Project
Dear Bindi,
I hope you are feeling better.
I am writing to inform you that I have been assigned as your partner for the science ABC project.
Also, as you could not attend class due to your illness, I took the liberty of taking down notes for you and filling up the XYZ form (all it needs is your signature).
Please let me know when it would be a good time to talk as we have much to discuss, or I could even come over to your place at your convenience.
Thanks & Regards,
Asha Devi
Class Representative
Class-12 (Science)
XYZ Higher Secondary School
FAQs On Email Writing
Q1. What should I keep as the subject in an email writing?
The subject line of an email should include its purpose, which must mention why you are writing this email. However, avoid writing long sentences, and use easy language with the essential words at the beginning of the subject.
Q2. What are the 4 types of email writing?
The four most common types of email that will help your business and you, as a professional, are:
Newsletter Emails: Newsletters allow your subscribers, be it your client, employees, or customers (both existing and potential), to be updated about your company on a monthly, bi-monthly or weekly basis. Here, you can add blogs or events or anything that would be of interest to the reader.
Promotional Emails: When it comes to email marketing, promotional emails are what many businesses prefer. However, it's important to get it right, as it can annoy the receiver. So, the best way to avoid this is to highlight the services you offer or the product you are selling with compelling content. Do not overdo this in fact, once or twice a month would do. Also, use this only when you want to promote a new product or service through special deals or events.
Informational Emails: Informational emails are usually concise and informative. They could be reminder emails or birthday or work anniversary wishes, among others. Their main purpose is to provide information to the receivers of the email.
Survey Emails: Survey emails can help in improving your decision-making process for your business as you will be able to understand what your customer's preferences and interests are through their feedback.
Q3. What is a professional email address?
A professional email address is an email address companies and businesses use to communicate with their clients, customers, employees, vendors, and others. The company email will have your business name in it as a domain name.
Conclusion: To ensure that your email is effectively delivered to the receiver, we hope the above tips for email writing, along with some email writing format samples.
We will leave you here with our best wishes!
Search Articles
Categories
Recent Blogs