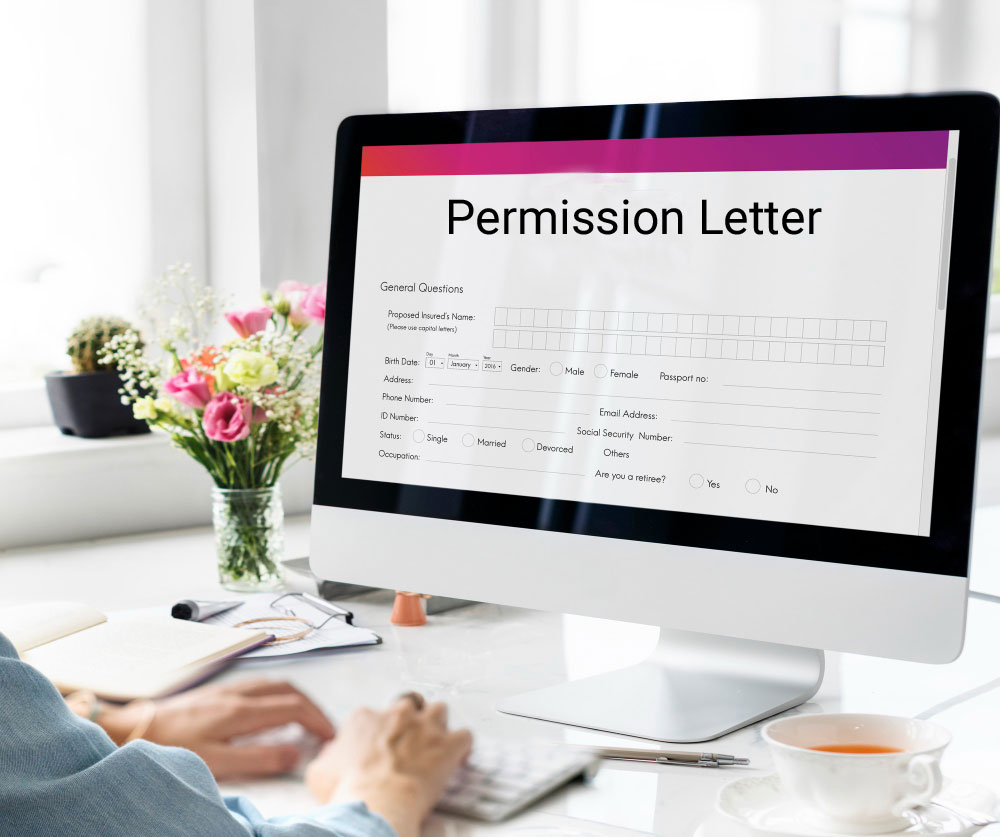 Writing a Permission Letter
A permission letter is a formal letter written to senior managers or higher authorities to seek consent for forthcoming events or intentions. The letter may be written to request a grant for leave, permission to conduct an event, to attend a training program or other reasons. Students or employees working in a professional environment may write such letters to take authorization from their supervisors. The authorities have the power to dismiss the permission request. Therefore, one should address the letter correctly and ensure that it is written in a polite manner. Let us learn more about permission letters and discover the right way to write these letters.
Permission Letter Samples
Let us learn how to write a permission letter better with the help of examples.
Example Letter of permission for leave/half leave from work
The Manager
Aricent Technologies
Gurugram
Haryana
3rd January 2023
Subject- Seeking permission for half day leave.
Respected Sir/Madam,
I am writing to inform you that I need half a day's leave tomorrow as I have to attend the parent-teaching conference at my daughter's school from 3 pm to 4:30 pm.
I will complete any due work by the end of the day and submit it before leaving for the parent-teaching conference. I kindly request you to grant me half day's leave for tomorrow. I will be very grateful to you.
Thank you
Yours faithfully
Rahul
Assistant software developer
Example Letter of Request for Permission to Join the Short-Term Program
E-131, Noida
J.J Industries
Uttar Pradesh- 110096
January 3, 2023
The Editor-in-Chief
The Hindustan Times
New Delhi, Delhi 110001
Subject: Requesting to join the short-term program
Dear Sir/Madam,
I am a final-year student pursuing a B.COM from the University of Hyderabad. I would like you to know that I am highly curious to join your short-term training program, which will start in February 2023. During my years in college, I developed a nose for news and analytical writing skills. Now, to enhance my theoretical knowledge, I want to gain some practical experience which this program will offer me.
I humbly request you allow me to join this training which will help me build my acumen for Journalism. I assure you of my hard work and dedication towards this short-term program which will be a vital asset to my career.
Appreciate your prompt response
Thank you
Yours faithfully
Signature
Rajni
Also Read: What To List As Your Strength In Resumes
Example Letter to Head of Department for Permission to organize Interdepartmental Competitions
3rd January 2023
Dr. Kajal
The Head of the Department
GRD College of Arts and Science
Coimbatore
Tamilnadu- 641014
Subject: Seeking permission to practice for the departmental competition
This is to inform you that Departmental competitions will be conducted from 27th to 15 January 2023. All students are encouraged to participate in these competitions, which will provide a stage for students to bring their skills and talents to notice.
We require auditions and practice sessions. I kindly request you allow us to utilize the front Hall for these activities. Additionally, we need students who can assist in the same, and it will be our responsibility to make sure on-duty students do not skip their academic sessions.
Thanks you
Your Sincerely
Kanishka
Ass. Professor
FAQs on Permission Letter Format
What is a permission letter?
A permission letter is an official letter written to request permission from the higher authorities. It is often written when an individual wants to conduct a new activity or wants to do something other than the regular routine activities.
What is the purpose of writing a permission letter?
The purpose of writing a permission letter is to formally ask the authorities for approval or permission. It also helps in maintaining the documentation.
What is a copyright permission request letter?
A copyright permission letter is a formal letter written by one company to another seeking permission for the copyright of a specific product or material. The letter should be inclusive of the sender's and receiver's addresses. Mention the detail of the product your company wants to reuse and state the reasons for reusing it.
How do I write a permission letter?
You should follow the format mentioned above while drafting the permission letter. Start with the sender's address, date, subject, and salutation, and write about 2-3 paragraphs describing the reasons.
How do you ask for permission politely in a letter?
You should consider using professional language in your letter. When stating the reason, be clear and concise. Do not miss out on details. You may even consider following up with the supervisor on a personal level and request them for permission or a grant.
Is there any difference between writing a permission letter to the school principal or writing a permission letter to the office authorities?
Permission letters are necessary for schools and business records. The format for writing the permission letter remains the same. There might be slight differences in the way you approach the letter. When writing for school, you will have to incorporate your parent's or guardian's contact details. Both letters are intended to ask for consent from the requisite authorities. Therefore, you should use professional language and keep a check on the tonality that you use in the letter.
Also Read: Node.js Interview Questions
Search Articles
Categories
Recent Blogs